Franconia, Sugar Hill & Easton, NH
Franconia is probably best known for being the home of the Old Man of the Mountain. When the famous rock face fell to the ground in 2003, shock resounded throughout the Granite State. The Old Man of the Mountain Legacy Fund was created to perpetuate a remembrance of this well know Profile" of which Daniel Webster once said, ..."Men hang out their signs indicative of their respective trades; shoe makers hang out a gigantic shoe; jewelers a monster watch, and the dentist hangs out a gold tooth; but up in the Mountains of New Hampshire, God Almighty has hung out a sign to show that there He makes men."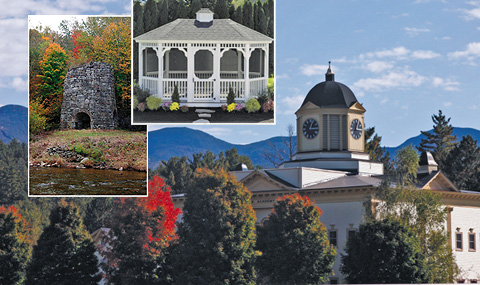 Thr Dow Academy, Dow Field Gazebo and Iron Furnace by Robert Kozlow
Evidence of history abounds and has a continuity here, that has been all but lost in America, as many descendents of original settlers stayed. Franconia and Sugar Hill each have museums that tell the story.

In the same spirit of independence, lodging and dining opportunities are as varied as the men and women who live here. Choose from a grand hotel or resort accommodations or a cozy B & B or cottage. Shopping is an adventure that will reward you with unique treasures, found in shops nestled among the hills and valleys, or on the village Main Streets.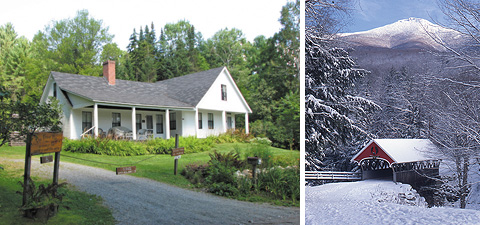 The Frost Place on the "Road Less Traveled" by Robert Kozlow
Robert Frost and his family owned a farm on "The road less traveled" in Franconia from 1915 -1920, and retrurned for many summers until 1938. The Frost Place (pictured above) has been preserved as a museum and poetry center, housing an annual resident poet and writer's conferences.

Franconia sits at the north end of Franconia Notch and Franconia State Park, just off I-93 and convenient to Cannon Mountain, the Flume Gorge, Profile Lake, Echo Lake, Clark's Bears, Indian Head and many natural attractions, covered bridges and waterfalls.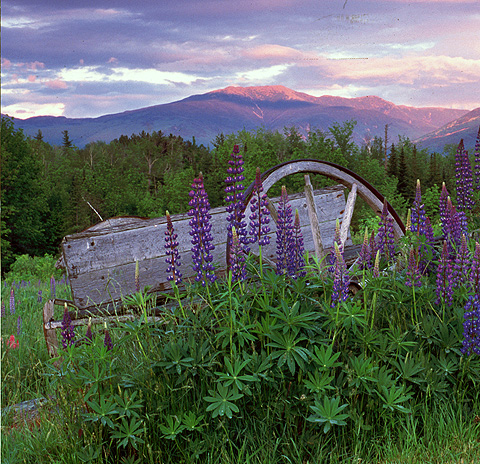 Lupines grow wild in many places and there is a festial every June, by Robert Kozlow
Franconia Area Natural Attractions
North of the Notches, NH