Whitefield & Lancaster, NH
Whitefield Town Common with its historic bandstand center stage inside the ice-rink by Robert Kozlow
Lancaster and Whitefield, NH date back to the mid 1700's. Lancaster was a settlement on the northern Connecticut River subject to many Indian troubles, and was named after a town in Massachusetts. It now has a population of 3358. Whitefield was actually chartered by the English provincial government 2 years before the Declaration of Independence. Some believe it was named from the early settlers description of the area refering to the snowy white fields one would see upon approach through any of the surrounding mountain passages. The original chartered name was "Whitefields".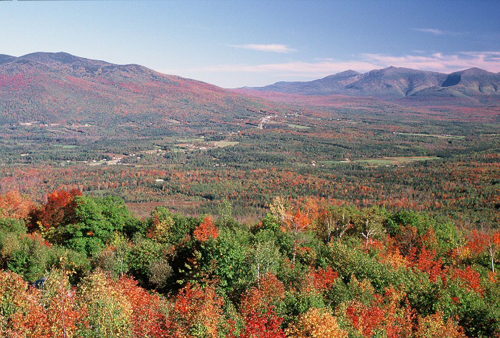 Weeks State Park view from the Fire Tower by Robert Kozlow
Both towns are quintessential New England with many fine examples of Victorian Architecture, traditional town commons and several covered bridges. Whitefield has a landmark bandstand (seen above) built in 1875 on the picturesque common known as King's Square, surrounded by an ice-skating rink in winter. It is also home of the Weathervane Theatre, which has grown from it's humble beginnings in the "big red barn". Lancaster has municipal parks, a town, swimming pool, outdoor tennis courts and a cinema.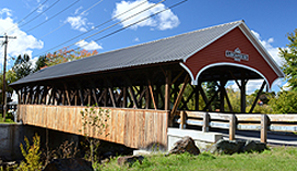 Lancaster covered bridge photo by Robert Kozlow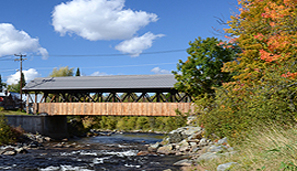 Lancaster covered bridge photo by Robert KozLow
Set in the rolling foothills of the White Mountains the area has long been know for its expansive mountain views. Weeks State Park on Rt. 3 south of Lancaster, was an estate that belonged to John Wingate Weeks, a leading conservationist, U.S. congressman and U.S. senator. In 1941 by John Weeks' children gave the Prospect Estate to the State of NH. At the very top of Mt. Prospect, there is a fire tower that provides a 360-degree panorama of the mountains, including the Presidential Range of the White Mountains, Green Mountains of VT, the Kilkenny Range, Percy Peaks, and upper Connecticut River Valley.

In Whitefield, one the Grand Hotels of NH, the Mountain View House, was built in 1866 on a hilltop facing the Presidential Range. In the last decade it underwent extensive rennovation and is now open once again, offering luxury accommodations and resort amenities. Both towns have motels, inns and a few B & B's that offer lodging in the area.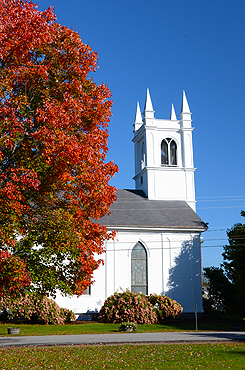 Lancaster church photo by Robert Kozlow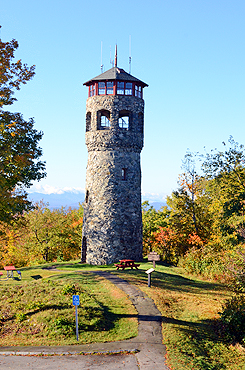 Weeks St. Park Fire Tower by Robert KozLow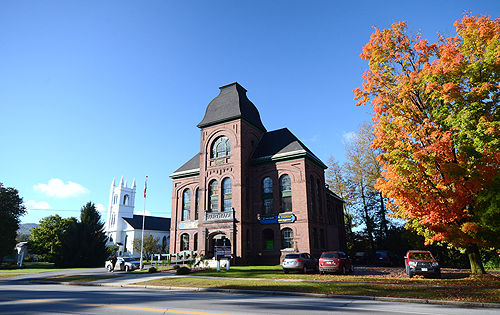 Historic Lancaster Court House by Robert Kozlow
The Town of Lancaster is the Coos County seat, and is anchored by the Courthouse. It has a population of 3358. The Annual Lancaster Fair is known far and wide and attracts many visitors every Labor Day Weekend.
Lancaster Area Natural Wonders and White Mountain Attractions
North of the Notches, NH