Snowmobiling
Jericho Mountain State Park is always open for recreation unless closed or restricted by posting. During off hours and the off-season (winter) the park is typically not staffed, comfort stations are not available and gates may be closed.
New Hampshire Snowmobile Association (NHSA) is an association of independently incorporated snowmobile clubs, working together as a unified voice to speak for the sport of snowmobiling and to promote it as safe family recreation. The clubs groom the trail corridor network in NH, including the White Mountains and Great North Woods.
See the NHSA Map
Corridors 3, 3A and 7 take you along the west side of northern NH to Colebrook and Cannan, VT, and the Canadian Line.
Corridor 5 takes you from south of Bath, NH, up to Canada. Corridor 18 is an east to west trail.
Corridors 19 & 20go up to Canada via the east side of northern NH and connect with trails in Maine.
All trails connect with others creating a vast network with lodging and facilities on route.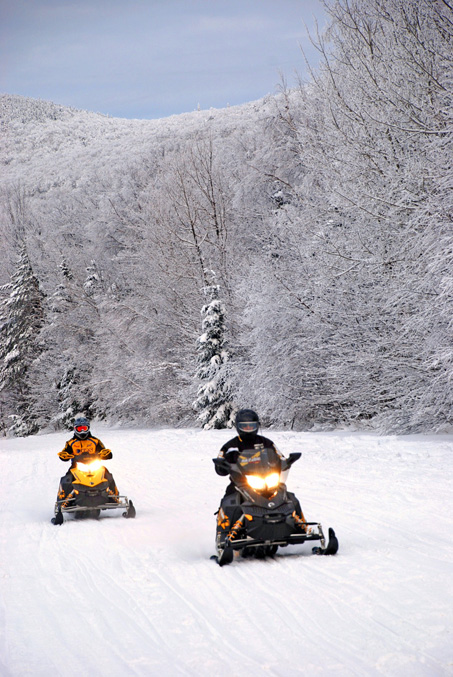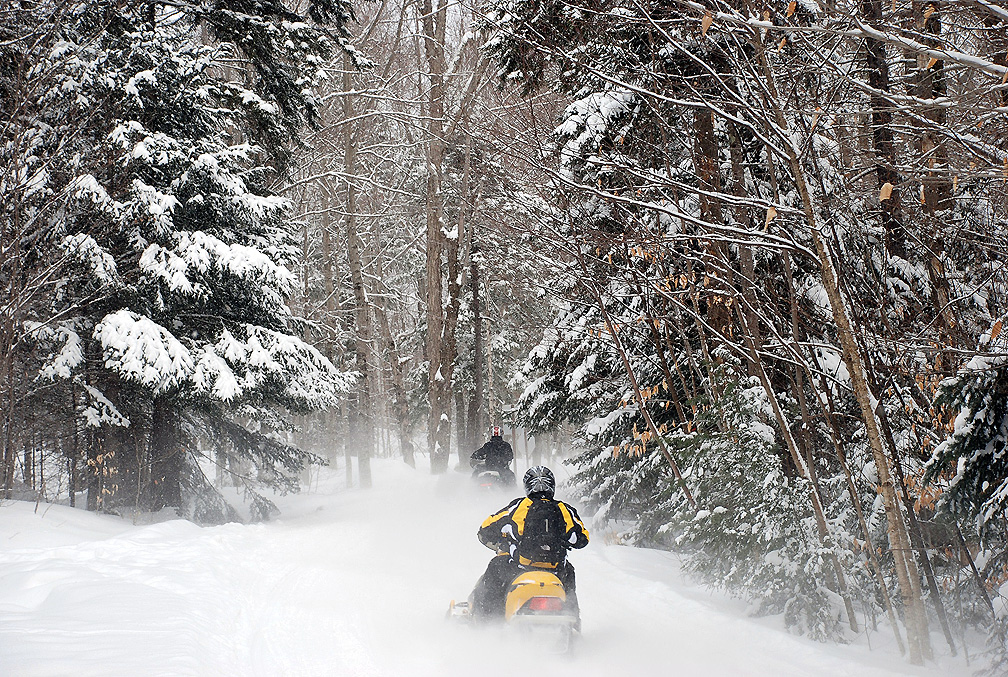 Snowmobile photos by Robert Kozlow
Snowmobile Clubs & Current Trail Conditions
Colebrook Ski Bees - PO Box 125, Colebrook, NH 03576 www.colebrookskibees.org
Dalton Ridge Runners - 64 Bush Road, Dalton, NH 03598 facebook.com/daltonridgerunners
Groveton Trail Blazers - 24 Eames Street, Groveton, NH 03582 www.grovetontrailblazers.com
Jefferson Hi-Landers - PO Box 273, Jefferson, NH  03583 www.Jeffersonhilanders.com
Lancaster Snow Drifters - PO Box 566, Lancaster, NH 03584 www.lancastersnowdrifters.org
Littleton Off-Road Riders - PO Box 281, Littleton, NH 03561 www.littletonsnowmobileclub.com
Milan All Weather Riders - PO Box 75, Milan, NH 03588 www.milanawr.org
Mt Agassiz Trail Association - PO Box 632, Bethlehem, NH 03574
Pittsburg Ridge Runners - 17 Dickson La., Pittsburg, NH 03592 www.pittsburgridgerunners.org
Presidential Range Riders - PO Box 141, Gorham, NH 03581 www.presidentialrangeriders.org
Stratford Night Hawks - 18 Washburn Rd, N Stratford, NH www.stratfordnighthawks.com
Swift Diamond Riders - PO Box 331, Colebrook, NH 03576 www.swiftdiamondriders.com
Twin Mountain Snowmobile Club - PO Box 179, Twin Mountain, NH 03595 twinmtnsnowmobile.org
Umbagog Snowmobile Association - PO Box 133, Errol, NH 03579 umbagogsnowmobile.com
Waumbek Methna Snowmobile Club - PO Box 115, Jefferson, NH 03583 waumbekmethna.com
White Mountain Ridge Runners - PO Box 425, Berlin, NH 03570 whitemtridgerunners.com