Welcome to Winter!
North of the Notches, New Hampshire
Snowmobiling
Jericho Mountain State Park provides opportunities for miles of trail riding with a number of scenic outlooks,for properly equipped OHRV, and snowmobile enthusiasts alike. This park is always open for recreation unless closed or restricted by posting. During off hours and the off-season (winter) the park is typically not staffed, comfort stations are not available and gates may be closed.
New Hampshire Snowmobile Association (NHSA) is an association of independently incorporated snowmobile clubs, working together as a unified voice to speak for the sport of snowmobiling and to promote it as safe family recreation. The clubs groom an entire network of trails covering NH.

See NHSA Map
Snowmobile Corridors 3, 3A and 7 take you along the west side of northern NH to Colebrook and Cannan, VT, and the Canadian Line. Corridor 5 takes you from south of Bath, NH, up to Canada. Corridor 18 is an east to west trail. And Corridors 19 & 20 take up to Canada via the east side of northern NH and connect with trails in Maine. All trails connect with others creating a vast network with lodging and facilities on route.
Snowmobile Clubs - Get Current Trail Conditions:
Colebrook Ski Bees - PO Box 125, Colebrook, NH 03576 www.colebrookski-bees.com
Dalton Ridge Runners - 64 Bush Road, Dalton, NH 03598 www.daltonridgerunners.com
Groveton Trail Blazers - 24 Eames Street, Groveton, NH 03582 www.grovetontrailblazers.com
Jefferson Hi-Landers - PO Box 273, Jefferson, NH  03583 www.Jeffersonhilanders.com
Lancaster Snow Drifters - PO Box 566, Lancaster, NH 03584 www.lancastersnowdrifters.org
Littleton Off-Road Riders - PO Box 281, Littleton, NH 03561 www.littletonsnowmobileclub.com
Milan All Weather Riders - PO Box 75, Milan, NH 03588 www.milanawr.org
Mt Agassiz Trail Association - PO Box 632, Bethlehem, NH 03574
Pittsburg Ridge Runners - 17 Dickson La., Pittsburg, NH 03592 www.pittsburgridgerunners.org
Presidential Range Riders - PO Box 141, Gorham, NH 03581 www.presidentialrangeriders.org
Stratford Night Hawks - 18 Washburn Rd, N Stratford, NH www.stratfordnighthawks.com
Swift Diamond Riders - PO Box 331, Colebrook, NH 03576 www.swiftdiamondriders.com
Twin Mountain Snowmobile Club - PO Box 179, Twin Mountain, NH 03595 twinmtnsnowmobile.org
Umbagog Snowmobile Association - PO Box 133, Errol, NH 03579 umbagogsnowmobile.com
Waumbek Methna Snowmobile Club - PO Box 115, Jefferson, NH 03583 waumbekmethna.com
White Mountain Ridge Runners - PO Box 425, Berlin, NH 03570 whitemtridgerunners.com
Whitefield Sno Kings- PO Box 64, Whitefield, NH 03598 www.snowkings.com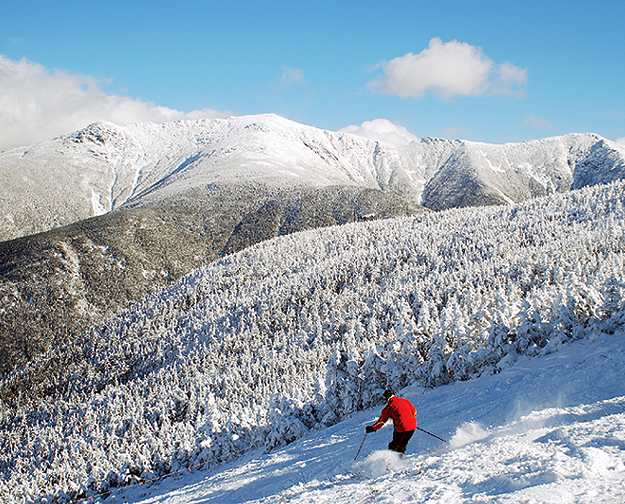 Cannon Mountain Skier by Robert Kozlow
Alpine Skiing & Snowboarding
Bretton Woods Mountain Resort - Skiing, Snowboarding, Canopy Tours, Sleigh Rides & Skating
99 Ski Area Road, Bretton Woods, NH 03575 (603) 278 - 3320 brettonwoods.com
Cannon Mountain - Skiing, Snowboarding, - 260 Tramway Drive, Franconia, NH 03580 Snow Phone 603-823-7771 www.cannonmt.com
Wildcat Mountain - Skiing, Snowboarding, 542 Route 16, Pinkham Notch, Gorham, NH 03581 888-754-9453 www.skiwildcat.com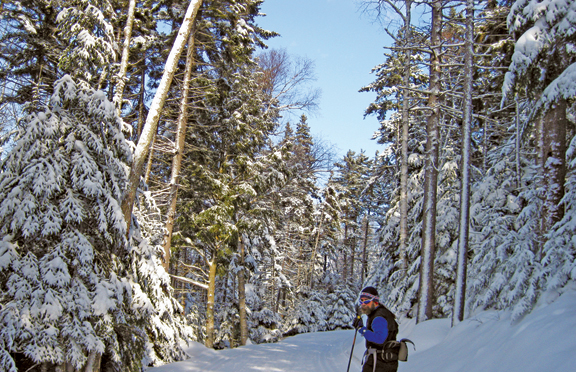 Nordic Skiing on Dragon Corridor at Great Glen Trails by Deborah Ryan
Nordic & Backcountry Skiing
North of the Notches in NH you will find opportunities for all types of Nordic Skiing. We have listed the groomed trail networks, which also offer events and racing. There are endless miles of backcountry trail to explore on skis and plenty of mountains for telemarkers. One of the annual rites of spring is skiing and an Inferno Race Event in Tuckerman Ravine on the east side of Mt. Washington.
Bretton Woods Nordic Center - 99 Ski Area Road, Bretton Woods, NH 03575 (603) 278-3322 brettonwoods.com/nordic_conditions/Snow_Conditions
Franconia Village XC Ski and Outoor Rec Center - Also, Ice Skating Park, Sleigh Rides and Tubing. 1172 Easton Road, Franconia ( 603) 823-5542 franconiainn.com
Great Glen Trails - Also Fat Biking, tubing and snowshoeing. P.O. Box 278, Gorham, NH 03581 - Pinkham Notch - (603)-466-2333 www.greatglentrails.com
Nansen Ski Trails - Milan State Park maintained by Nansen Ski Club, PO Box 222, Berlin, NH 03570 (603)752-4916 www.skinansen.com
Ski Hearth Farm - Also Ice Skating, Bonfires and Pizza. 392 Streeter Pond Rd, Sugar Hill, NH 03586 (603) 823-5560 www.skihearthfarm.com
Friends of Tuckerman Ravine - A non-profit support group for the preservation and enjoyment of Tuckerman Ravine on Mt. Washngton. Inferno Race Registration www.tuckermanravine.org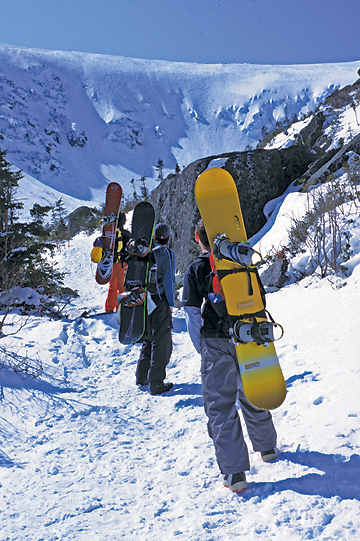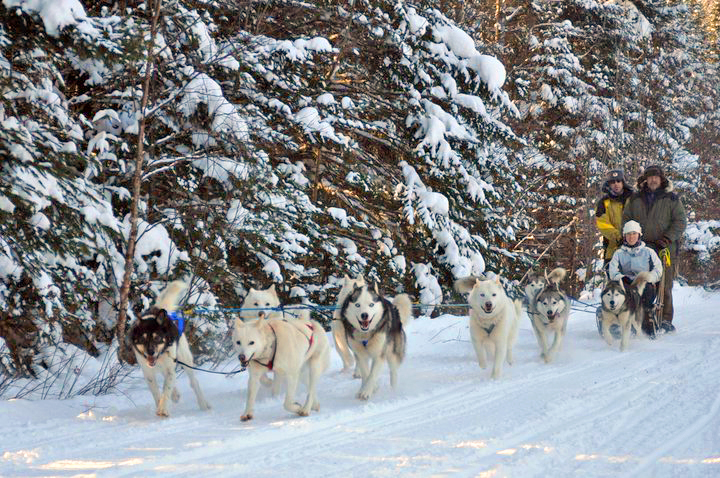 Tuckerman Ravine ( by Robert Kozlow) is a rite of spring for skiers and snowboarders, dog-sledding courtesy of Muddy Paws Sled Dog Kennel) is great family fun!
Dog Sledding
Muddy Paws Sled Dog Kennel - 32 Valley Rd, Jefferson, NH 03583 - Office Main St., Gorham. NH (603) 545-4533 www.dogslednh.com
Ice Fishing
Ice fishing in most New Hampshire lakes and ponds begins at "ice-in" and ends at "ice-out." Depending on the weather and ice safety, this season can be from late December through mid-April. www.wildlife.state.nh.us/fishing/ice-fishing.html

Tradition Making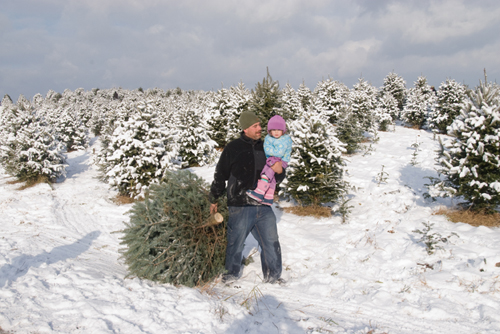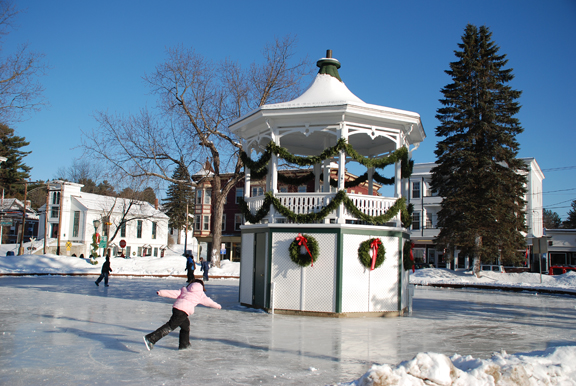 Pick your own Christmas tree, go for a horsedrawn wagon ride, a sleigh ride or ice-skating!!
Whitefield, NH photo by Robert Kozlow